CONFERENCES, CONCLAVE & WORKSHOPS
Energy Conclave 2021
Samavesh 5.0 - HR Conclave – 2020 Report
Reshaping HR practices post Covid 19
Date – 27th November 2020
Platform – MS Teams
The impact of pandemic is visible across organisations and industries globally. There is a silver lining to the pandemic where HR leaders are embracing the idea of greater agility and flexibility into their policies and plans. Samavesh 5.0 was organised by School of Petroleum Management as an initiative to engage into conversation with experts from different sectors on contemporary human resource trends.
The theme of the conclave revolved around the topic – Reshaping HR practices post Covid 19. The discussion was divided into two tracks for the synchronisation of the disciplined discussion on the topic.
The conclave started with inaugural and welcome speech followed by welcome address by Dr. Satish Pandey where he developed a fair base by throwing light on importance of the theme of the conclave.
Track 1 was about Role of HR in adapting to the new normal. The track had three esteemed professional as speakers.
Focusing on COVID-19 crisis and the HR role in it, the conclave began with Track 1, which was initiated by Mr. Ajith Singh, hiring manager at Wipro Ltd. His discussion created a very strong base for the topic of role of HR in adapting to the new normal by sharing several practical examples of how companies especially in IT sector have adapted to new work from home practices and how they have worked on ensuring work life balance in the new normal. He also talked about how they have normalised the existence of family members in the work space with coming wave of work from home. He also discussed how HR policies and practices have changed drastically to adapt with the changing times.
Further the discussion was continued by Mr. Kashyap Kotak, Regional HR Head, HDFC Bank. His interactive discussion gave us insights about the experiences he had before and whilst the COVID-19 working situations. He focused on how HR helps businesses connect to the customers and how structures, methods and strategies have moved from a physical to a virtual world with HR domain in the driver's seat. According to Mr. Kotak people and businesses are supposed to go together to emerge stronger in this pandemic.
The session went on to become more informative. As the conclave progressed, the stage was taken over by Dr. Urjit Kavi, Regional HR Head, Sodexo India Services limited. He shared his insights regarding the post Covid-19 scenario that has forced us to change. Further, focused on factors that led organizations practice change and Human Resource and Businesses face immediate challenges which in turn led them to move to WFH and adapt to the new normal. Due to this new normal Health sector has boomed whereas small scale industries faced instability.
Last address by Dr. Hari K Patnaik CEO, EIC Sustainable Solutions Pvt. Ltd. was focused on the Pillars of an Organization which were People and the Environment, explaining how they are necessary in the Success of an organization. Moving on with the address, he explained the role of HR in this current scenario of COVID-19. He touched on the topics of how to adapt to the new normal, what a COVID 19 response plan shall be, how to cope with WFH and the ineffectiveness in communication it brings along. Also about the administrative controls which are in the hands of the HR team and how they can use it in keeping the well-being of the employees.
In this time of chaos or even otherwise, a workplace can be straining. Track 2 focuses on the mental well-being and its importance whilst working.
This track took flight with an address of Mr. Chirag Shah, Associate General Manager (HR), Adani Ports & SEZ. He focused on the mental chaos that we create. He mentioned that unnecessarily we keep blaming situation around us, while the real noise is in our own mind. More than the problem, it's the reaction of the people which creates the chaos. The outer world impacts our inner world. Many of the times we feel that the stress lies outside, but in reality it lies inside our mind. If we can't handle this thing, it will affect our own productivity. Minds drive the periphery. The management begins with the mind. Right from the childhood nobody teaches us that how should we manage our own mind. We don't talk about the mental pollution we create.
There is a dire need in the organizations to manage mental well -being. People always remember your behavioural skills.
Mr. Suna Chand Sahoo, Vice President (HR & BE), Calyx Container Terminals Pvt. Ltd interacted with the students of his experience with vivid working environment and how they are dealing with the topic of mental well-being along with the current COVID crisis. According to him mental health is not just an individual concern but a societal one too in which people have changed and how they behave everyday which has become a challenge for the workplaces to adapt to. This session worked well for the better understanding on the topic.
As we went forward into understanding the nuances of the theme, Mr. Parag Bhatt- General Manager (L&D), USV Pvt. Ltd. addressed and shared his experience and expertise which proved to be extremely fruitful for the listeners. His speech started with giving insights on mental well-being followed by Gallup Sharecare global well-being index and Maslow's hierarchy of needs. He further emphasized on the importance of well- being by stating relevant examples. Customer satisfaction is one the important things for an organization and stagnation of the firm talks about the mental well-being of the same. Recession, Pandemic and VUCA situation has affected the mental welfare of the organization. A person with his merits and knowledge on the topic made it immensely perceptive for the students and attendees.
The conclave came to an end with a speech of Mr. Hariharan Iyer- Chief Mission Officer. He added value to the session by stating , "This is not new normal ,this is new abnormal". If we acknowledge this new abnormal, then in that case we all will be comparatively in a far better situation.
When you develop yourself, success will automatically come which follows due to the competencies developed. If you see what's happening in the world today, you will see the rat race, even if you win the rat race you will still remain a rat. You don't become a lion. The question is how do you build quality for yourself? You need to build your career not by kilometre by kilometre but inch by inch, same goes with success. If you do something ethically you'll get there. The first challenge for human resource is millennials, who are impatient people. Nobody remembers what you have done last year, everybody remembers what you are doing right now. Only right people are the asset for an organisation. Human resource has a huge role to play in shaping the character of an employee in the organization. Human resource constantly needs to create leaders that we deserve.
The conclave was concluded by closing remarks of Dr. Ashutosh Muduli. He summarised to whole discussion to give thoughts the fair direction to think further in the agile environment and concluded by thanking all the stakeholders of the conclave for making the conclave successful by their meaningful contribution.
Report on BMS 2019
HR Conclave Samavesh - 2019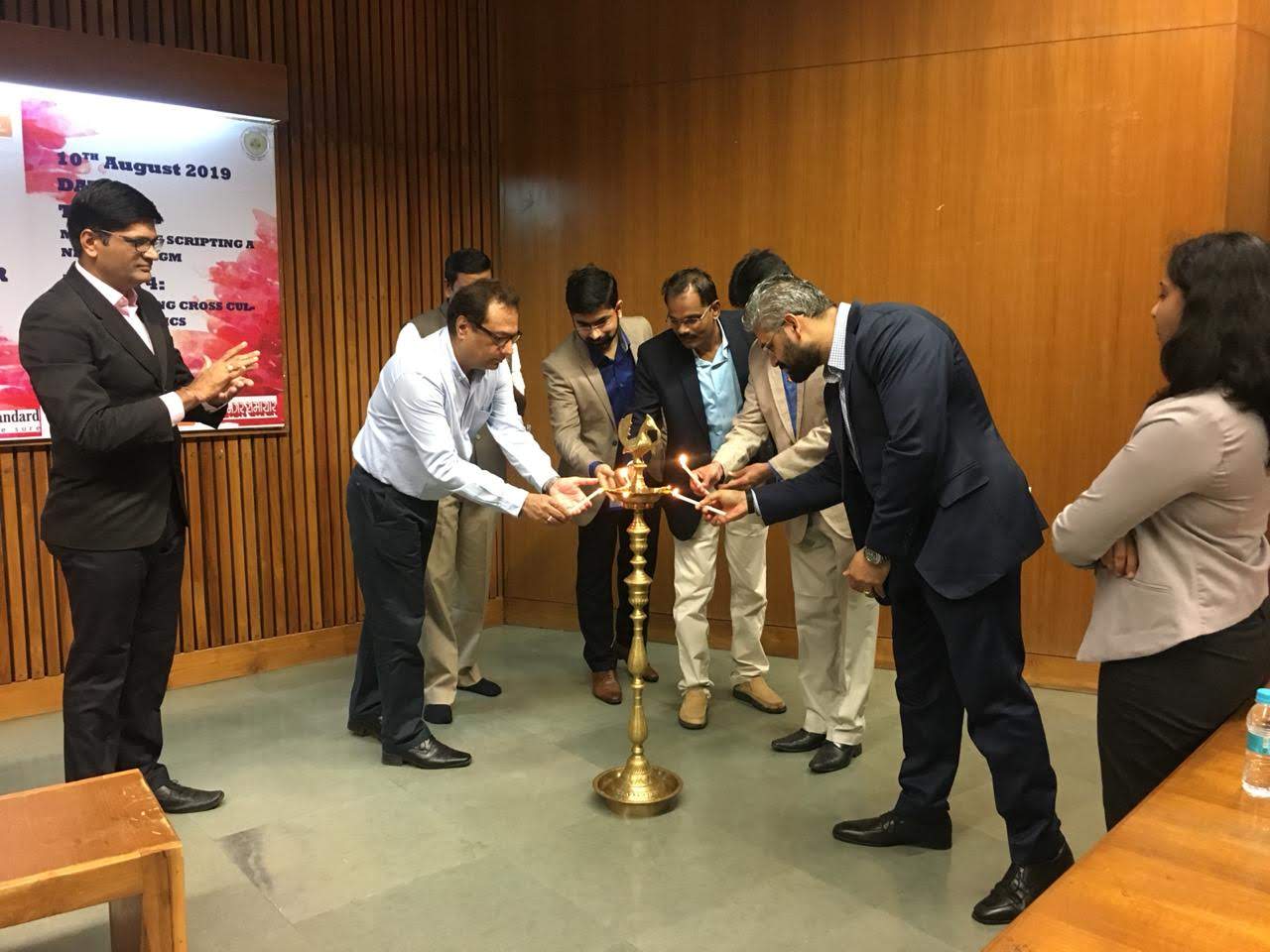 Previous Conclaves
Business Management Symposium- 2018
28th and 29th September 2018
---
HR Conclave Samavesh- 2018
Download Brochure
School of Petroleum Management (SPM), Pandit Deendayal Energy University, Gandhinagar had successfully organized SAMAVESH 2018- The HR Conclave on 4-5 Oct'2018 in its 3rd edition with a vision & path to discuss the key issues related to managing Human Resources with reference to the emerging role of digitisation and business analytics.
Day 1 started with an opening speech by Prof. Ashutosh Muduli, Chairperson, Samavesh 2018, SPM. Prof. Muduli briefed about the evolving role of HR and all-around tracks of the event.
Track 1: "Integrating HR strategy with Business strategy" started with the first speaker, Mr. Amit Karandikar, General Manager & Head-HR at Netafim Irrigation Pvt Ltd., Vadodara. "People create the differential effects" says Mr. Amit Karandikar. He shared his insights on the evolution of Human Resource and Business Strategy. He believes that the allocation of employees is the biggest challenge in Human Resource Management. He is of the strong opinion that Value based Human Resource Management supports the organisation in long visioned growth. The 2nd speaker of the track was Mr. Lokesh Pandey, General Manager(HR) at Experion Developers Pvt Ltd., Delhi. Mr. Pandey is of the strong opinion that talent acquisition plays a significant role in human resource management. He believes implementing unique industrial Practices to fight employee resistance and increase growth prospects.
Track 2: "Technology & HR - Digitisation, Robotics & HR Analytics" started with the first speaker, Mr. Debasish Samal, General Manager-HR at Tech Mahindra, Bengaluru. Mr. Samal discussed the journey of Human Resources Management from Employee Administration to Employee development. He also touched upon the concept of Employee Value Proposition wherein employees get great developmental curve via HRM. The second speaker of the track was Ms. Sonali Banerjee, Head-HR at Imagination Technologies, Pune. Ms. Banerjee spoke about HR transformation through Automation. She also added how Analytics can help managers in decision making and work more efficiently. The next speaker for the session was Mr. Uday Sinh, Head Business HR & Communication with a leading SME FMCG, Ahmedabad. Mr. Sinh educated the students on how important technology is and more importantly transcending it. He also triggered points like digital mindset, workflow analytics, people analytics etc. The 4th speak er of the session was Ms. Poulami Basu Sinha, Learning & Development Lead HR at JCH AC India Ltd., Ahmedabad. Ms. Basu a strong believer of "Ordinary People, an extraordinary result" shared her insights about systematic employee allocation and technological up gradation in Human Resource Management. The next speaker of the session was Mr. Shyam Sharma, President- HRM & Corp. Communications at Claris Lifesciences Ltd., Ahmedabad. Mr. Sharma explained about people development and integration of technology. Also adding to his talk about the psychological aspects and induction of employees. The sixth speaker of the session was Mr. Alok Jain, Vice President at NCPL, Ahmedabad. Mr. Jain mainly focused on the importance of the human touch in the industry. He also shared his experiences on emotional aspects and technological disruptions helping employees to cater customer needs.
Track 3: "New age talent aspirations amidst changing employee expectations" The second day of the event kick-started with Track 3: "New age talent aspirations amidst changing employee expectations". The first speaker for the session was Mr. Sushil Tripathi, Head HR at Siyaram Silk Mills Ltd., Mumbai. Mr. Tripathi spoke on how to tackle managerial inconsistencies and uncertainties in human resource management. The next speaker for the session was Mr. Lokesh Pandey, General Manager(HR) at Experion Developers Pvt Ltd., Delhi. Mr. Pandey discussed job prices among different age employees. He also touched upon why employee retention is becoming a debatable issue in modern era business. The 3rd speaker for the session was Mr. Anand Bhatnagar, AVP HR at Reliance Industries Ltd., Mumbai. Mr. Bhatnagar started his talk with great enthusiasm and refreshing activity. He explained about why human psychology resists full potentiality in employees. He also added on how influential effect requi res uniqueness in HRM.
Track 4: "Employee Engagement to Employee Experience" was initiated by Mr. Sanjay Ayachit, AVP ER, Hindalco Ltd-Birla Copper, Bharuch. Mr. Ayachit interacted with students on the importance of Industrial Relations and its disruptions. He also touched upon how proper communication can help in building a strong relationship between employer and unions. The next speaker for the session was Mr. Chirag Shah, Associate General Manager HR, Adani Ports & SEZ Ltd., Ahmedabad. Mr. Shah focused on corporate set up and team building. He also introduced a real-life example of how HR policies proportionately relate to employee engagement. The 3rd speaker for the session was Mr. Dhruwang Mehta, General Manager & Head HR at Deepak Phenolics Ltd., Vadodara. Mr. Mehta enlightened students on working flow from employee experience to employee engagement. He also spoke about strategies to be adopted for employee satisfaction. The 4th speaker for the session was Mr. Ravi Shankar, Senior VP HR at Welspun India Ltd., Anjar, Kutch. Mr. Shankar discussed HR engagements towards different behavioural problems and challenges. Further, he added about legal disruptions in HRM.
The event concluded with Samavesh Co-chairperson, Prof. Satish Pandey giving his closing remarks about the success of the conclave with vote of thanks to all the speakers, participants, sponsors, PDEU faculty, staff and the university management.
The quantum of knowledge and rich industry experience shared by the distinguished guest speakers and their takeaway by the students signifies the success and effectiveness of the HR Conclave. The TEAM SAMAVESH is thankful to everybody who has been instrumental in making this event at the School of Petroleum Management, PDEU a memorable one.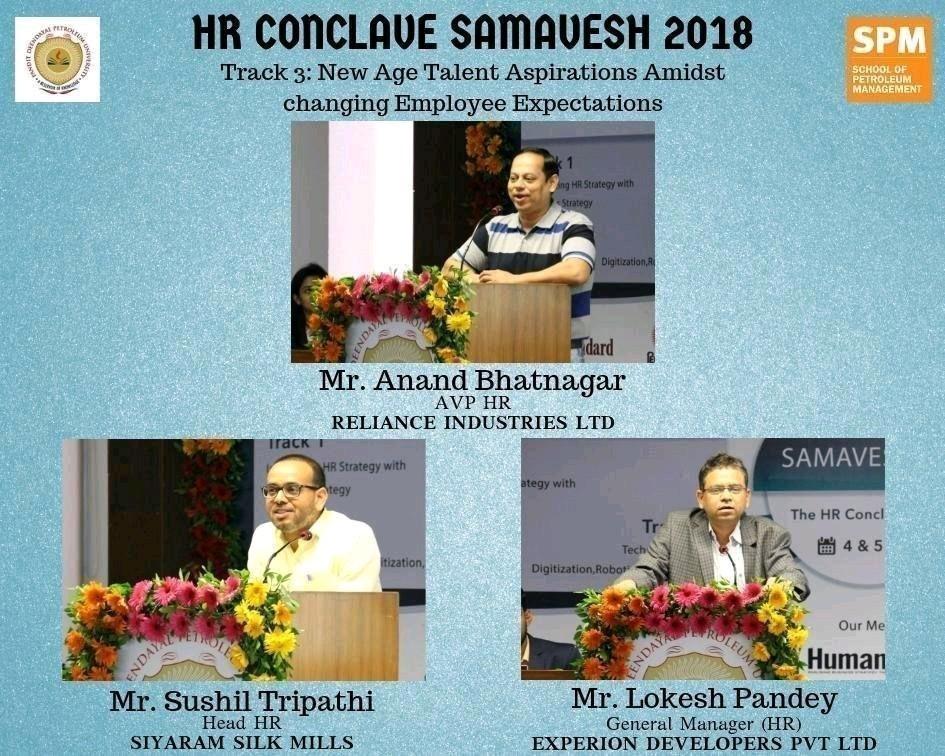 ---
Business Management Symposium- 2016
August 26-27,2016
School of Petroleum Management, Pandit Deendayal Energy University, Gandhinagar had organised Business Symposium 2016 on 26th and 27th August. The symposium was an attempt to have a deeper understanding of recent trends, market dynamics, issues and challenges faced by the industry across varied sectors. The 2 days Business Management Symposium was divided in 3 sessions as INVESTMENT BANKING, DIGITAL MARKETING and BUSINESS DATA ANALYTICS with speakers and their profiles as mentioned below.
The First Session on "Investment Banking: Empowering India" (August 26, 2016, 11:00-1:00 PM)
Speakers - Investment Banking: Empowering India
Name
Designation
Organisation
Mr. Killol Pandya
Head - Fixed Income
Peerless Funds Management Co Ltd
Ms. Bekxy Kuriakose
Head-Fixed Income
Principal PNB Asset Management Co Pvt Ltd
Mr. Sonjai Kumar
Vice President (Business Risk)
Aviva Life Insurance Company Limited
Ms. Simmi Sareen
Director- SMEs Segment
Loans4SME
Mr. Akash Bansal
Co-founder
ZoukLoans
The session discussed Indian financial sector and how it is becoming the major catalyst of economic transformation. Experts had past experiences of working in the fields of finance like mutual funds, risk management, start-ups, seed funding, small and medium enterprises, insurance sector, etc. They gave insights about the boom of start-ups in the past two years, stating the helping hand extended by state governments as one of the major propelling factors. The session also discussed about the intricacies and governing the insurance sector, the pivotal role played by mutual funds in the capital market, and also highlighting importance of investment banks and the key challenges faced by developing countries like India and the strategies implemented to combat the same.
---
The second session on"Digital Marketing: What's more in store?" (August 26, 2016, 2:30 -4:30 PM)
Speakers: Digital Marketing: What's more in store?
Name
Designation
Organisation
Mr. Aalap Gandhi
State Brand Head- Gujarat, Marketing and Advertising
Divya Bhaskar Digital
Mr. Aditya Shah
Entrepreneur
Entrepreneur
Mr. Hardeep Pathak
Co- founder
Writopedia
Mr. Shekar Singh & Mr. Prakhar Gupta
Head Corporate Communications & Program Manager
Infibeam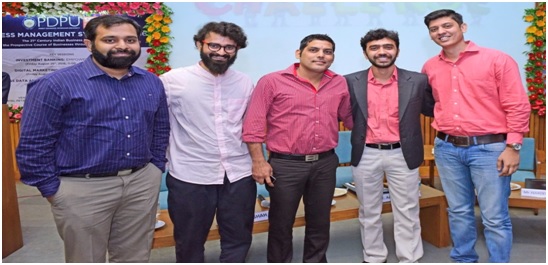 The session discussed how digital marketing is shaping the future of marketing. The session started with the various elements that digital marketing encompasses. The session also discussed how traditional marketing and the need for a presence in the offline market still persists. Key discussion was also on the type and quality of content which has become critical for the success of any digital organisation. The significance of storytelling to engage the consumer and to further make them the consumers who also promote your products was discussed. Simultaneously the panel members also touched upon the technology intervention through virtual & augmented reality in the digital marketing field.
---
The third session "Business Data Analytics" (August 26, 2016, 11:00-1:00 PM)
Speakers: "Business Data Analytics: Growing with the growing data"
Name
Designation
Organisation
Ms. Ujjyaini Mitra
Associate Director, Analytics, Business Finance
Flipkart
Mr. Manoj Jain
Data Analytics Professional
Merck
Dr. Hamendra Kumar Dangi
Associate Professor
Department of Commerce, Delhi School of Economics
Mr. Ankit Gupta
Director-Strategy
Snapdeal
Mr. Rajesh Iyer
Associate Vice President, Category Head-Home
PayTM
Mr. Terence Rebello
Retail & Digital Marketing Head
IQR Consulting
Mr. Mayank Agarwal
Founder and Head
Geek Creative Agency
The discussion focused on how the data analytics can be a game changer for various organisations and corporate. Data analytics is gaining popularity because it is that one tool that's helping things getting measured and managed. Not only e-commerce but also various sectors like health care, investment, politics and many others are using data analytics and companies who have mastered this tool have been able to outperform the competitors. Within the organisation data analytics has permeated in all the functional areas like the supply chain management, sales, human resource management, etc. Increased digitization has lead to consumer leaving data trails everywhere which has resulted in better understanding of consumer behaviour and making it easier for top management to make decisions of their products. Tools like SAS, Hadoop, MATLAB, Statistica and are helping huge volumes of data with more efficient computing capability. The session rounded off on an interesting insight about bridging the gap pertaining to skills between industry and academics.
The event was well supported by DEW Journal, Eagle News & divyabhaskar.com as media partners. Dr. Kaushal Kishore, Chairperson, Business Management Symposium 2016 appreciate the sincere efforts of all students and core committee members Mr. Amrit Sharma, Mr. Ashish Kumar Jha , Mr. Ayush Saxena, Mr. Ronak Sani & Ms. Anushri Bhatt.
---
HR Conclave Samavesh- 2016
HR beyond 2020
19 August 2016
Samavesh means 'inclusion'. The HR department in any organization is meant to involve people in different job functions, organizational roles and processes for best results expected by stakeholders. The human resource management function has evolved very much from administrative control to human involvement by improving knowledge and practices in sync with new technology development. SPM's Samavesh is a forum to discuss emerging challenges being faced by HR thinkers and practitioners across industries. Samavesh also means to include HR academicians and practitioners in a symbiotic process for preparing HR managers to handle critical human challenges in 21st century organizations beyond 2020.
Track 1: Emerging fields of Human Resource Management
HR Analytics: Its critical role in strategic HRM
Green HR: Emerging HR practices for sustainable development
Use of social media tools in HR strategies and practices
Track 2: Critical human relations issues at workplaces
Gender equity: Concerns for different genders in workplace
Sexual harassment- challenges for HR management
Mental health issues in workplace: HR manager's dilemma
Generation gaps in workplaces: Intergenerational issues for HR managers
Workplace bullying: Concerns and challenges for HR managers
Team Samavesh invites HR thinkers and practitioners working in different industries to share their views, concerns, opinions, experiences in context of any of the above theme. The purpose of Samavesh is to create healthy discourse of the above critical HR issues and discover new ways to overcome these challenges.
For any inquiry, please contact:
Dr. Satish Pandey, Chairperson, Samavesh-2016
Email: satish.pandey@spm.pdpu.ac.in
(079-23275118; +919428597853)
Email: samaveshthehrconclave@spm.pdpu.ac.in
---
Energy Conclave - 2016
9TH & 10TH SEPTEMBER 2016
Energy is one of the most crucial aspects for survival of human kind on the planet. Going by the year 2015 this sector saw ultra-low-oil prices, coal plant closures, a landmark climate change deal in Paris and records set for global solar projects. All of these events signalled continuous massive significance underway for world's Energy & Infrastructure. Change is often slow in the Energy sector but when it happens, it occurs in a truly massive way and year 2016 is no exception.
In order to have a better insight of the energy trends in India versus rest of the world, School of Petroleum Management is organising the Energy Conclave 2016 in 1st week of September. This two day event will put emphasis on three major energy verticals, namely, Oil& Gas, Power and Renewable sources of energy. It will be an open platform for open discussion between the industry and the academia.
Theme 1: Power: Indian Power Sector Growth Prospects- Roadmap to be Energy Sufficient
Scope & Challenges of Digitization of Power Transmission & Distribution
Implementation of Public Private Partnership(PPP) models in Power Transmission
Power theft issues
Role of Indian Regulatory board
Attracting Foreign Investments in India (100% FDI in Power)
Theme 2: Renewables: Growth Prospects of Green Energy- Opportunities, Challenges & Innovation
Current Scenario & Growth Opportunities in Renewables
Regulations, Policy Framework and its challenges
Role of Public & Private Players
Complex Process in Implementation
Challenges in Financing Renewable Projects
Theme 3: Oil & Gas: Petrochemical Industry Growth- Is India leveraging the opportunity?
Current Scenario of refineries in India
Petrochemical Products and their penetration
Challenges involved in the growth of this industry
Upcoming Technological Advancements- Feasibility in India
Role of Indian Regulatory System
Theme 4: Oil & Gas: Liquefied Natural Gas –Redrawing the map of gas in Indian Context
Current LNG Infrastructure Scenario
Technology & Innovation in LNG Business
Regulatory framework-Opportunities & Limitations
Issues faced in RLNG Marketing- Contracts & Pricing Dilemma
CORRESPONDENCE DETAILS:
Dr. Ashutosh Muduli
Chairperson, Energy Conclave
E-Mail: ashutosh.muduli@spm.pdpu.ac.in OR energyconclave@spm.pdpu.ac.in

Organizing Committee Members:
1) AnandKrishna Pandey-
Email Id: anand.ppgp15@spm.pdpu.ac.in
Contact Number: +919838527436
2) Arnab Chatterjee-
Email Id: arnab.cpgp15@spm.pdpu.ac.in
Contact Number: +919433669573
3) Brinda Shah-
Email Id: brinda.spgp15@spm.pdpu.ac.in
Contact Number: +918905485572
4) Drashti Shah-
Email Id: drashti.spgp15@spm.pdpu.ac.in
Contact Number: +919974272901
5) Pranali Baxi-
Email Id: pranali.bpgp15@spm.pdpu.ac.in
Contact Number: +917600029680
6) Raj Vadukul-
Email Id: raj.vpgp15@spm.pdpu.ac.in
Contact Number: +918866445772
Guest Lectures @ SPM
| Sr. No. | Name | Designation | Company | Date |
| --- | --- | --- | --- | --- |
| 1 | Mr. Subodh Kumar | Executive Director | IOCL | 24th July,2018 |
| 2 | Mr. P Vinay Kumar | MD | Renewables Business of Brookfield Asset Management | 10th August,2018 |
| 3 | Mr. Malay Shah | Associate Partner | Ernst & Young | 22nd August,2018 |
| 4 | Mr. Mrugank Paranjape | MD & CEO | Multi Commodity Exchange | 4th September,2018 |
| 5 | Mr. Bhavesh Rastogi | General Manager | Gulf Oil Lubricants India | 9th September,2018 |
| 6 | Mr. Manish Thaker | Associate GM,HR | Adani Ports | 24th October,2018 |
| 7 | Mr. Shrehith Karkera and Mr. Bhanu Gurran | Co-Founder | Finception | 7th December,2018 |
| 8 | Mr. Ritesh Chavan | Co-Founder | The Money Roller | 8th December,2018 |
| 9 | Mr. Manish Shah | DGM,West Zone | Future Retail | 19th December,2018 |
| 10 | Mr. Soubir Bhattacharya | Founder & CEO | Liberty Venture Ltd. | 27th December,2018 |
| 11 | Mr. Shambhavi Sharma | Assistant VP,HR | Sterlite Tech Software | 8th January,2019 |