Achievements 2021-22
Infosys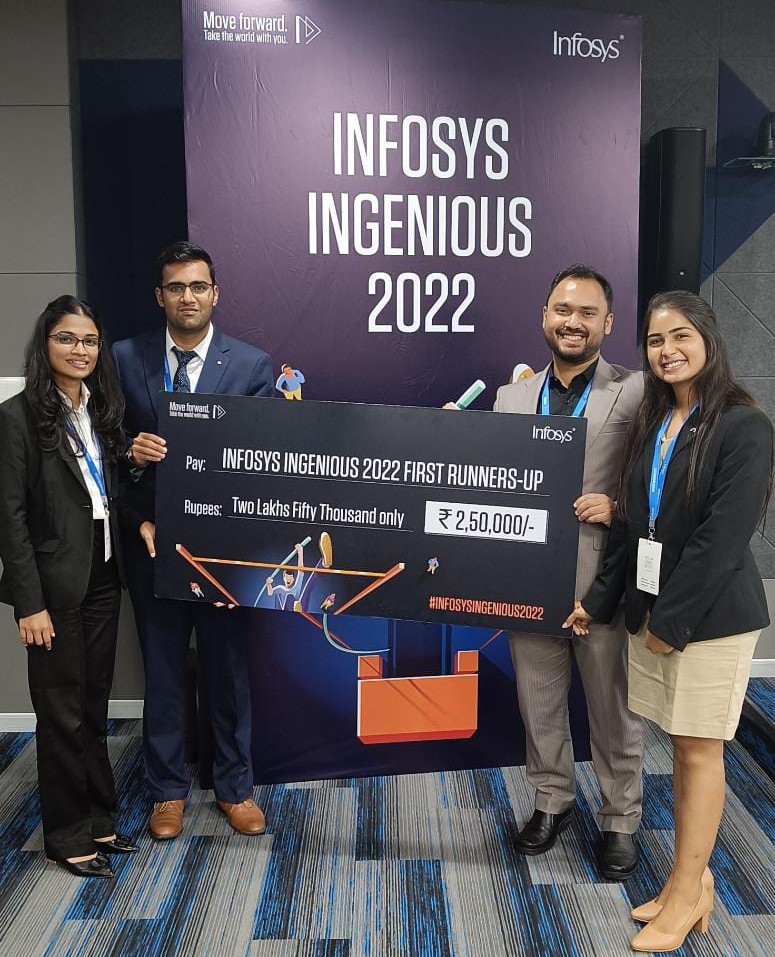 Congratulations Team OPEC comprising Shreya Singh, Shalin Dhar, Anushka Singh and Paritosh Sharma (all from MBA 2021-23 batch) from School of Petroleum Management Pandit Deendayal Energy University for being 1st runner up in Infosys Ingenious 2022 !!
12000 registrations.; 351 teams qualified for the second round; 14 teams out of those 351 qualified as national finalists.
1st position: IIT Madras; 1st Runners up: SPM PDEU; 2nd Runners up: IIFT
SPM PDEU's Sourabh S Nair was awarded by Bharat Heavy Electricals Limited for his innovative idea on Green Hydrogen
We are proud to share that our student Sourabh S Nair, pursuing MBA in Energy & Infrastructure, batch 2020-22, was awarded by Bharat Heavy Electricals Limited for his innovative idea on Green Hydrogen. He will now be mentored by officials from BHEL in order to take forward the idea, towards execution.
SPM, PDEU congratulates him for his achievement and wishes him all the best for his future endeavours.
Achievements 2018-19
SPM-PDEU's Nimesh wins Business Standard B-School Best Project Award 2019
On 2nd March 2019, Nimesh Shah, final year MBA student (2017-19) of School of Petroleum Management, PDEU has bagged the 1st prize in the Business Standard Best B- School Project Award competition organised under the auspices of Crompton Greaves and Indian Oil. Ernst & Young was the official auditor of the contest. The contest spread over 3 months, had 173 entries, had several rounds and witnessed participation from prominent B-Schools including IIMs from all over the country. In the ultimate stage, apart from SPM PDEU, teams from VGSOM-IIT Kharagpur, KJ Somaiya, NITIE and IRMA were the finalists. The grand finale was organised in Mumbai on 2nd of March 2019 in which Nimesh beat all these teams to emerge as champion. Please see the attachment photograph of the ceremony. Nimesh presented his internship project on a strategic methodology for deployment of charging stations and mapping charging infrastructure within a city for electric vehicles.
A 5 -member high profile jury comprising CEOs and industry leaders adjudged the pre-final and final stages of competition. Jury headed by Mr. Ajit Balakrishnan, Founder & CEO Rediff.com had Ms. Nishi Vasudeva, Former CMD-HPCL, Mr. Rajat Gupta, Senior Partner-McKinsey, Mr. Hashit Joshipura, Head- L&T Automation and Mr. Ambi Parameswaran, Founder BrandBuilding.com as fellow members.
The jury applauded the complexity involved in forming the solution and innovative approach undertaken to solve a real business problem.
SPM follows a robust mechanism for Summer Internships which not only helps organisations to identify solutions to real-life business problems but also is extremely helpful in students' industry exposure leading to good placements in industry.
---
SPM MBA 2017-19 student is among the 5 National Finalists in Business Standard Summer Internship Project Competition
---
Ishita Bhayani - 2018 GM
2019 - Winner at Eqiupo, EDI Gandhinagar in Table Tennis
Runners Up at Justice League, GNLU in Table Tennis
Runners Up at Petro Cup(Sports Fest),PDEU in Table Tennis
Runners Up at Energy Cup at SPM, PDEU in Table Tennis
---
Team Yellow Lights (Manyata Ashra - PGP18 & Rathin Shah - PGP17)
fancied first position in RJ Wars at MICAvaani organized by MICA. They made a fun radio show for spreading awareness on cleaniness, judged by Mr. Chirag Tripathi and Mr. Jignesh Vasavada.
---
Megha Tiwari (PGP18)
student of School of Petroleum Managenent, PDEU went for an examplary art exhibition- TINTS+SHADES at Kanoria Gallery of Arts organized by Rang- The fine arts club of PDEU. She showcased amazing monochromatic artwork with an expression of monuments in a hybrid statute. Furthermore, her artwork was appreciated by Mr. Nabibaksh Mansoori and Mr. Reventa Sarabhai.
---
Team Imperium (Shobhit Tandon, Aditya Seth and Radhe Upadhyay - PGP18)
from SPM, PDEU participated in Vendition Vendetta - Atharv'18 by IIM Indore and outperformed Bschools across India to bag their place in Top 20. The team displayed unique marketing strategies under the given cases and made it the last case presentation round.
---
Jeet Chandarana and Parth Shah (PGP18)
secured 2nd rank in Auction House- Renaissance'18, a bidding competition where you need to hustle your way out with profits from a garage sale scenario. It was organized by B.K. School of Business Management to test the street smart quotient and money management skills of the participants.
---
Jeet Chandarana (PGP18), a student of SPM, PDEU secured 2nd rank in STOCK WARS at Renaissance'18, B. K. School of Business Management. He marched out with whooping second highest profits made from stocks in a simulated trading platform.
---
Aravind Ajith, Pranav Sharma, Mauli Patel, Isha Gandh and Akshay
Won the First Prize for the second consecutive time In Badminton In EQUIPO'18 conducted by EDI – 2019
---
Jainam Shah
1st Prize
Date: Feb 1, 2019
Issuer: Shanti Business School
Sampatti - A Financial Planning. This was a competition where we were given the profile of an individual and we had to plan the investments to meet the long term goals as given to us. It was very interesting.
---
1st Prize
Date: Feb 1, 2019
Issuer: Anirveda A Club at PDEU
There was a open ended discussion on the topic of 10% Reservation for the EWS passed by the government in January and its implications. It was very beautiful and engaging.
---
1st Prize
Date: Feb 2019
Issuer: Som Lalit Management and Research Institute
Khatro Ke Khiladi - This was a budgeting and finance game wherein we were given a budget and with creativity we had to make different articles and then sell them. It was fun
---
1st Prize
Date: Feb 2019
Issuer: Shanti Business School
The competition was a poster presentation on the topic of 3R- Reduce, Reuse and Recycle. The poster was co-created with Chirag (MBA - 1st Year) and was digitally preapred by Parshwa (MBA - 2nd Year)
---
1st Prize
Date: Feb 2019
Issuer: Som Lalit Management and Research Institute
Off the Cuff - This was an extempore competition wherein we were given two topics to speak on. One of them was Data Theft and the other was Should there be more Job Creators than Job Seekers. It was interesting and fun.
---
1st Prize
Date: Feb 2019
Issuer: Som Lalit Management and Research Institute
honor descriptionThe beauty of marketing and selling a product is how well the target customer can feel the product to be of use to him/her. This was a beautiful competition and along with Chirag we enjoyed selling our product (Solar Power Bank) through a short live drama.
---
1st Prize
Date: Feb 2019
Issuer: NIFT, Gandhinagar
It was a poetry competition at NIFT's annual festival, SPECTRUM. I dedicated the poem to our nation's martyrs' who are always at the beck and call of the nation. It is titled The Nation's Heartbeat.
---
Best Communication Award
Date: Dec 1, 2018
Issuer: Ganpat University
A national level SIP competition. I won the award for the best communication.
---
1st Prize
Date: Aug 2018
Issuer: BlackCoffer Analytics
There was an article writing competition titled "Analytics in the Energy Industry". The article was based on how IIoT is increasing profits in the volatile oil and gas industry.
---
2nd Prize
Date: Mar 1, 2018
Issuer: Infraline Energy
The competition concerned with the PESTLE Analysis of Nigeria in the Upstream Oil for Gas Sector. Detailed analysis on the same had to be done and substantiated with adequate proof. The competition had a participation of students from various energy institutions from more than 30 countries.
---
Vatsal Deladia, Vikash Kumar, Sharique Akhtar, Asif Ahmed, Bhavesh Kourani of PGP-2018-19 won the 2nd Prize at Brandomania
Brandomania 18 was a part of the annual event of KJSIMSR, Mumbai "The National Retail Summit". The participants of the event were to Design and Develop a Brand of their own and present it in front of Industry experts in the third round. Our team designed the brand "BIO_Bartan" which was basically biodegradable utensils made out of leftovers of paddy straws.